War-war in eastern Ukraine no jaw-jaw in Minsk as peace talks aborted
Comments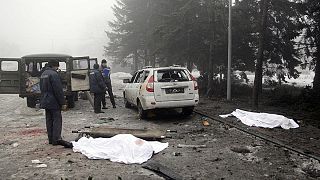 Separatists in the rebel held Ukrainian city of Donetsk say government shells have hit a cultural centre where civilians were receiving humanitarian aid.
A number of people were killed in the explosions.
The Ukrainian government denies any active operations took place in Donetsk.
In the strategic town of Debaltseva separatists and government forces have been exchanging heavy artillery fire as the battle for the transport hub rages.
As the fighting shows no sign of ending peace talks show no sign of beginning.
In Minsk OSCE brokered peace talks were expected to start on Friday, but bickering, demand and counter-demand meant meetings were shelved.
There is an outside chance things could get underway later today.