East meets West in Washington to discuss Russian assertiveness
Comments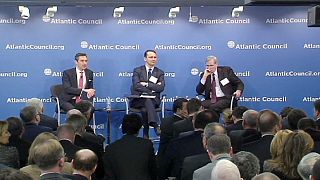 An Atlantic Council conference in Washington has opened to discuss Russia's growing assertiveness and its impact on the region.
The Transatlantic Partnership for Eastern Europe invited representatives from Ukraine, Azerbaijan and Poland, among others, to develop a more robust Western response to any further territorial encroachments by Russia.
Latvia currently hold the EU's rotating presidency the country's foreign minister is Edgars Rinkevics: "There are forces in Moscow that are dreaming about the re-establishment of something like an empire, be it the Russian Empire of 1913 or be it the Soviet Union or be it something new."
Many in Washington believe that following the Kremlin's Crimea land grab that the US administration should pay more attention to Putin's agenda.
John Herbst the former US Ambassador to Ukraine: "I believe that the United States has not understood that in fact the problem of Mr. Putin's revisionism is the greatest national security danger in the world today. The administration is treating it as a kind of second tier problem."
Our Correspondent in Washington is Stefan Grobe:" There were lots of expressions of support for Ukraine and Eastern Europe, but the core question remained unanswered. And that is: how to engage Russia peacefully."