Vigil in Sydney for two Australians on death row in Indonesia
Comments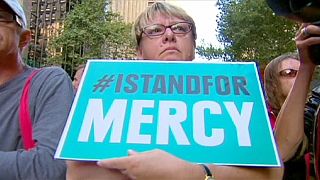 Hundreds have gathered in Sydney for a vigil for two Australians on death row in Indonesia for attempted drug trafficking.
Myuran Sukumaran and Andrew Chan are members of the so-called 'Bali Nine', convicted of drug trafficking and sentenced to death in 2006.
They were arrested in 2005 on charges of smuggling heroin into Australia.
Both have had their clemency appeals rejected.
People attending the vigil held up signs reading "I stand for mercy", and listened to music and speeches, including one from Sukumaran's grandmother, Edith Visvanathan.
"I come here to ask pardon from the president and the people of Indonesia to forgive my grandson and give him a second chance. I don't ask him to come home, I only ask him to give him life and let him do something in the prison.
"Don't kill him, please don't kill him. We are all worried and don't know what to do and what to tell. Please president please forgive him. He's doing a lot of things in the prison for the last 10 years," she said.
Indonesian President Joko Widodo, who took office in October, has pledged no clemency for drug offenders, drawing criticism from rights activists at home and abroad.
It is still unclear when the two men's execution will take place.
Indonesia executed six drug offenders on January 18 by firing squad, five of whom were foreigners, prompting Brazil and Netherlands to recall their ambassadors.
Australia and Indonesia have a long history of diplomatic tensions, which have periodically complicated cooperation on regional issues including people smuggling and intelligence.
Indonesia says eight people convicted of drug offences, including seven foreigners, could be executed next.
The foreigners come from half a dozen different countries, the spokesman of Indonesia's Attorney General office told a news conference in Indonesia's capital Jakarta.
"Among the eight convicted drug offenders who were sentenced to death seven of them are foreigners and one Indonesian," said Tony Spontana. "One from Brazil, one from France, one Filipino, one from Ghana, one from Nigeria and two from Australia."
Spontana declined to name the inmates, however he said all their clemency pleas were declined earlier.
Ahead of the next execution, the Philippines had filed a case review on behalf of its citizen Mary Jane Fiesta Veloso, who was sentenced to death in October 2010 for attempting to smuggle 2.6 kilograms of heroin into Indonesia via Malaysia.
Australian Prime Minister Tony Abbott called on Indonesia to reconsider its decision to execute its citizens, whom he said were reformed characters who had helped rehabilitate other prisoners.