Britain retraces Winston Churchill's final journey 50 years on
Comments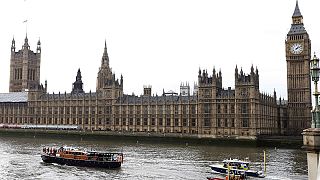 It was a day an entire nation was watching, re-created 50 years later.
Britain has commemorated the state funeral of wartime Prime Minister Winston Churchill by retracing his final journey.
Laying a wreath in his honour, Prime Minister David Cameron described Churchill as a 'great Briton' who should never be forgotten.
Churchill's family stood aboard the merchant vessel Havengore, as it made its way down the Thames from the Tower of London to Westminster as it did in 1965.
Back then, the bells of Big Ben were silent and streets were packed with mourners as the cranes were lowered in respect to the leader who led Britain to victory in World War Two.
His funeral was the largest at the time, with leaders from more than 100 countries in attendance. Hundreds of thousands of people filed past his coffin during three days of lying in state.
Fifty years on the event was a testament to Churchill's place in the pantheon of history – whether remembered as a statesman, defender of democracy or bon vivan