Mexico says 43 missing students were definitely murdered
Comments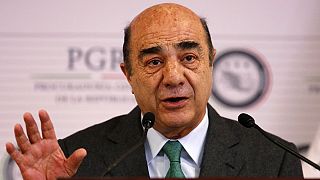 Mexico says it is now sure that 43 students who disappeared in September were murdered on the orders of a drug cartel which mistook them for members of a rival gang.
Authorities made the announcement despite the fact that the remains of only one of those missing have been formally identified so far.
Citing confessions obtained and forensic evidence, Mexican
Attorney General Jesus Murillo Karam, told a news conference:
"These and many other elements retrieved during the investigation enabled us to make a logical, reasonable analysis and conclude, without a doubt, that the trainee teachers were deprived of their freedom, killed, incinerated and thrown into the San Juan river, in that order. This is the historical truth of the facts."
Until now, the government had said only that the students were almost certainly killed after clashing with corrupt police officers who handed them over to a drug gang.
The mayor of the southwestern city of Iguala and his wife were arrested as two chief suspects.
But relatives of the students remain unconvinced by the official version of events, dismissing the latest statement as an attempt by authorities to close the investigation. Many refuse to give up hope that their loved ones are still alive.
The students' disappearance on the night of Sept. 26 in Iguala led to street protests across Mexico and international condemnation of its security situation, embarrassing President Enrique Pena Nieto and plunging his administration into its biggest crisis.