Castro warns against US interference despite relations thaw
Comments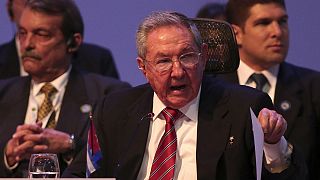 President Raul Castro has warned critics in the US he will not accept any interference in Cuba's internal affairs despite attempts at a rapprochement between the two countries.
Speaking at the Community of Latin and Caribbean States (CELAC) summit in Costa Rica, the Cuban leader did however urge US President Barack Obama to use his executive powers to ease a decades-old embargo.
"The principle problem has not been resolved. The economic, commercial and financial blockade that provokes enormous human and economic damage is a violation of international law that ought to be over turned."
Raul Casto's remarks follow Monday's publication of a letter written by his brother and former Cuban leader Fidel Castro who stated that while he did not trust Washington's politics, differences between nations should be resolved through cooperation.
The letter appears to support the cautious approach by his brother to Obama's new attitude towards Cuba.
Last week the United States and Cuba held historic high-level talks in Havana that are expected to lead to the re-establishment of diplomatic ties severed by Washington in 1961.