New Greek government unveiled with radical economist named Finance Minister
Comments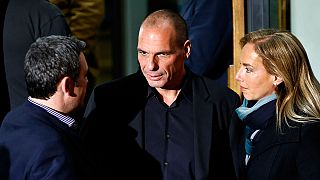 Alexis Tsipras has unveiled his anti-austerity cabinet which is likely to cause some ripples in Brussels and Berlin.
Beginning with the all important Finance Ministry. It will be headed by Athens University Professor Yanis Varoufakis (53), a radical who described austerity programmes as 'fiscal waterboarding'.
He is the man charged with the tough task of renegotiating the 240 billion euros bailout deal and make a dent in the country's 320 billion euro debt. He struck a defiant note yesterday saying he will 'not put up or shut up'.
Just short of an absolute majority Tsipras' SYRIZA party was forced into what commentators are calling an 'unnatural coalition' with the right-wing Independent Greeks. Their leader Panos Kammenos will take over the Defence Ministry.
Giannis Dragasakis, a Professor in Political Economy at Crete University will have oversight on all ministries dealing with economics and will also go head to head with Greece's international creditors, also known as the Troika.
The rest of the cabinet
Labour Minister, Panos Skourletis.
Interior Minister Nikos Voutsis.
Nikos Kotzias, a Politics Professor is taking up the Foreign Ministry post.
Health Minister, Panagiotis Kouroumblis.
Foreign Affairs Minister, Nikos Kotzias.
Environment super ministry is headed by Panayotis Lafazanis.
Culture and Education Minister Aristides Baltas.
Justice Minister, Nikos Paraskevopoulos.
Anti-corruption Minister, Panyotis Nikoloudis.
Minister for Development, George Stathakis
Government spokesperson will be Gabriel Sakellaridis.
And Zoe Constantopoulou will be parliament speaker.
Ministers heading to the presidential palace to be sworn in #Greecepic.twitter.com/0z8EDnYN7L

— Nektaria Stamouli (@nstamouli) January 27, 2015
There is a notable dearth of women in the top positions, but some made it to deputy posts. Such as Nantia Valavani who will work at the Finance Ministry.
The new cabinet posts include super ministries combining previously separated posts. However, in total there appear to be 40 ministers in 10 ministries.
The composition of the cabinet appears to show Syriza means business on fighting the bailout, but when it comes to talks with its international creditors its not yet clear who will blink first.