Libya: Casualties reported in Tripoli hotel attack
Comments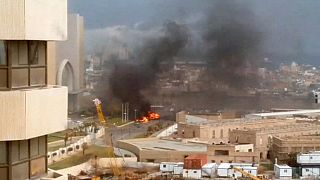 Gunmen in the Libyan capital Tripoli have attacked a hotel often used by government officials and foreign delegations.
There are reports of several casualties. There have been fears that the attackers may be holding hostages but the situation is unclear.
Three guards are said to have been killed when a car bomb was first detonated outside the Corinthia Hotel.
Gunmen then reportedly stormed the building as security forces tried to evacuate guests.
The hotel has been surrounded and the area around it sealed off.
Libya is split in two, with an internationally-recognised government in the east and a rival administration in Tripoli which was taken over by an armed faction last year.