Displaced Ukrainians receive planeload of EU aid, more to follow
Comments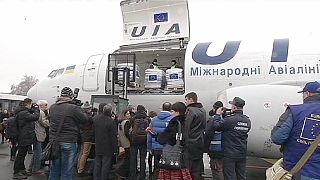 Tens of thousands of people displaced by renewed fighting in eastern Ukraine have received a planeload of humanitarian aid from the European Union.
As Ukrainian separatists announced they aim to expand control of their stronghold Donetsk to the entire region, the EU pledged to deliver 15 million euros worth of further aid to help the most vulnerable.
Nataliya Lysenko, who fled the violence, explained to euronews: "Nobody lives on our street anymore. Everything has been destroyed. I took some clothes with me and documents. What else could I take? We ran under fire, under bombardment…"
Inside a makeshift administration tent, the EU Ambassador to Ukraine Jan Tombinski told euronews: "The first impressions are very sad. Because these people have lost everything they had from their lives in Donetsk, in Luhansk."
Euronews correspondent Maria Korenyuk reported that there are 84,000 displaced people officially registered in the Dnipropetrovsk region.
"They came here from Donetsk and Lugansk, and from the Crimean peninsula," she explained. "Local authorities have promised to create new jobs, and offer them courses and retraining so they can fend for themselves in the future."