Ukraine seals emergency EU loan amid bankruptcy threat
Comments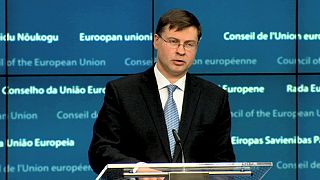 The Ukrainian government sealed an emergency loan of 1.8 billion euros from the European Union on Tuesday as the country looks to stave off the threat of bankruptcy.
The European Commission will lend the country 1.8 billion euros – but it is estimated Kiev faces a shortfall of as much as 13 billion.
Valdis Dombrovskis, a European Commission vice-president said the loan would be "linked with a structural reform in Ukraine, most notably in strengthening the governance, strengthening the state institutions, fighting against corruption."
Ukrainian officials will have to sign a commitment to pursue those reforms before the first part of the loans can be disbursed.
The International Monetary Fund has its own rescue package for Ukraine, worth some 15 billion euros, which is also conditional on economic and fiscal reforms.
The east of the country continues to be gripped by fighting between Ukrainian soldiers and Russian-backed separatists.
EU foreign ministers are holding emergency talks on Thursday to discuss the latest violence.