Auschwitz liberation 70 years on, mourning of millions
Comments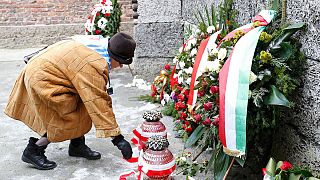 Auschwitz was liberated 70 years ago, today, by the advancing Soviet Red Army.
For the 70th commemoration, former prisoners laid flowers at the Death Wall of the original compound's Block 11. The remaining survivors were children then, or at most in their early 20s.
The main ceremonies were to be held later.
The Nazi German concentration and extermination camp Auschwitz-Birkenau is in Poland, and is the site of the largest known mass murder in history.
Many people, however, are still ignorant about what happened in the camps.
The murder of more than 1.3 million people at Auschwitz alone — 90 percent of them Jews — was based on Hitler's purportedly racial ideology.
It was his Nazi party's express policy to exterminate all of Europe's Jews.