Auschwitz liberation a Soviet pause in sweep to crush Hitler
Comments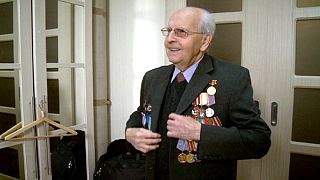 When he was 21, Ivan Martynushkin was a lieutenant in the Soviet Red Army, commanding a machine-gun unit. By the start of 1945 they had walked thousands of kilometres in Stalin's drive to defeat Hitler, in this war where civilians suffered untold brutalities.
On January 27 the troops were in Poland.
Martynushkin: "We were moving around Krakow. We didn't know a thing about any concentration camps in Auschwitz. Our unit had just been told to go to a certain line and set up our position. After passing the village of Auschwitz, we came to a huge field with barbed wire all around it, and strong concrete pillars, so clearly the barbed wire was electrified. The pillars showed that."
Martynushkin has many medals but not for liberating Auschwitz. There isn't one. It wasn't even a defined military operation.
The vast camp was practically abandoned. The somewhat stronger prisoners had been marched off to other camps. A few thousand of the totally exhausted were all that had been left in Auschwitz.
"Apparently, they lacked oven capacity. The Germans couldn't burn as many corpses as they wanted so they piled them up with logs, and then more on top, so those bodies were laying around in stacks that were set on fire. When we arrived at Auschwitz it had started to snow. It sort of covered the camp as if with a white cloth. Otherwise, the whole place would have been totally black from soot and ashes. Even when we were approaching the camp we already got this very strange smell of burning flesh, burning human bodies. The smell filled the air all around the camp."
The first meeting of the liberators and the liberated was far from uplifting. The soldiers had no medicine or extra food with them to give the prisoners. The famous pictures capturing 'the historic moment of liberation' were taken a few days later by Soviet cameramen who were brought in. The journalists who came acknowledged that some shots were staged.
Martynushkin: "We approached a group of prisoners face to face, blackened faces. Some were covered with blankets, patchwork. Then we saw their eyes, their eyes sparkling, glittering. Only by something very deep in their eyes we could tell their mood, a sort of happiness. We couldn't speak to each other. They seemed to be saying something like, 'Hungary, Hungary.' But at the time I didn't know what exactly Hungarians were."
He understood what he had witnessed only much later. He came back several times, but on that day, 27th of January 1945, he spent hardly an hour at the site of those atrocities.
The Red Army moved out, closing on Germany.