Yemen on edge after leader resigns
Comments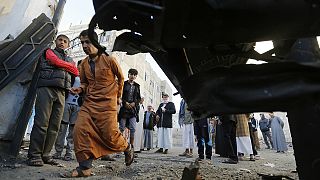 Yemen teeters on the edge of chaos following the resignation of the embattled president on Thursday.
Abd-Rabbu Mansour Hadi blamed the Houthi militia's control of the capital Sana'a for stifling his efforts to steer the Arab world's poorest country away from the political void it now finds itself in, as the country remains without a leader. The Houthis had held Hadi as a virtual prisoner after encircling his residence.
The Yemeni parliament is scheduled to meet on Sunday to accept or reject his resignation, and the pressure is on to find a solution.
The Houthis have proposed a ruling council, but an alliance of parties rejected it, and are now holding talks with different factions to plot their next move.
With no president, there are fears that al-Qaeda's Yemen branch could take advantage of the vacuum.