Gloomy outlook among the young in Athens as Greek election approaches
Comments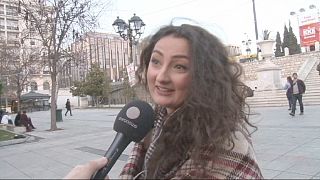 The streets of Athens near the Greek parliament are a familiar sight to locals and tourists alike.
Several Greek people euronews spoke to on Friday expected that the general election would result in little change either, even if the outcome is a different government.
Most people have made up their minds who to vote for, but according to opinion polls some 10 percent are still undecided.
"What chaos!" exclaimed one woman. "What chaos! Nobody deserves my vote, nobody convinces me. I don' t know… There might be a miracle, but I don' t believe in miracles anymore. All politicians care only about power."
Young people especially have felt the crisis bite. 18-year-old Tryfonas is voting for the first time.
"There is no room for us, there is no growth. There are a few jobs, but most of them are sitting behind a desk on a very low salary. Most of my friends work as waiters. If you're young, creative and dynamic, you have to leave the country," he said.
A young woman echoed his feelings: "My only thought is that I have to leave the country. That' s the reality. 250,000 young people left Greece, not because they wanted to. Things are not going well and we need to think about why," she said.
With 24 hours till the vote, anger and disillusionment are strong feelings among the Greek public.
Euronews correspondent in Athens Apostolos Staikos reported:
"A day before the polls open on Sunday, people are talking about what tomorrow will bring. Some worry, some fear, but all hope that the new government will put an end to austerity."