Shi'ite Houthi rebels keep pressure on Yemen president despite tentative deal
Comments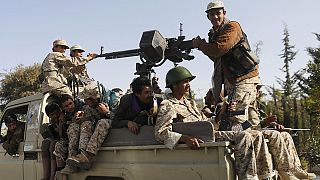 Shi'ite rebels are keeping up the pressure on Yemen's beleaguered president. They stayed put outside Abd Rabbu Mansour Hadi's residence on Thursday (January 22) and held him a virtual prisoner, despite winning major concessions from him on power-sharing.
The president had little choice.
After seizing the capital Sanaa in September, the Shi'ite fighters, known as Houthis, battled their way into his presidential palace this week. They had already abducted his chief of staff.
Hadi now says he is ready to accept their demands including constitutional change.
A rebel source says they could pull back and free the presidential aide in the next three days if the authorities commit to implementing their promises.
The capital remains largely shut down, witnesses said, even though the airport and seaport in the southern city of Aden resumed work on Thursday, having closed for a day in protest at the Houthi offensive against Hadi's administration.
The rebels' rise to influence has caused chaos in Yemen and raised fears that al Qaeda could benefit.