US and Cuba differ on migration policy on first day of talks
Comments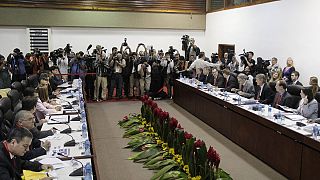 Migration has proved a divisive issue on the first day of historic talks in Havana between senior Cuban and US officials – the first since both countries announced a breakthrough in efforts to thaw relations.
The US remains committed to laws that welcome Cubans into the United States once they set foot on American soil – but Havana opposes the policy.
Thousands try to leave the communist island each year, often in flimsy vessels.
"The persistence of the "Wet foot, dry foot" policy and the "Cuban Adjustment Act" are still the principal stimulus for illegal immigration and immigrant trafficking," said the Cuban Foreign Ministry's Head of North American Affairs, Josefina Vidal.
Thursday's talks are expected to focus on restoring diplomatic relations between Washington and Havana.
President Obama's longer-term goal of ending the decades-old trade embargo may prove harder – as it would require the approval of the Republican-controlled US Congress.