China economy posts slowest growth in 24 years
Comments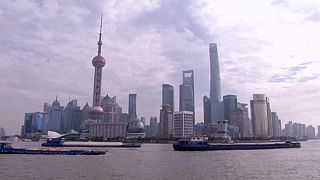 Growth in China has slowed to its lowest rate in more than 20 years and its economy is expected to lose more momentum in 2015.
Growth of 7.4 percent last year – the slowest since 1990 – narrowly missed an official target. It compares to 7.7 percent growth in 2013.
The International Monetary Fund forecasts 6.3 percent growth in China next year.
But officials in Beijing see light at the end of the tunnel.
Ma Jiantang, Commissioner of the National Bureau of Statistics of China, said:
"We are facing quite a difficult domestic and international situation in 2015 and we should be alert to these difficulties, but at the same time, we should also see the great potential and conditions for the stable growth of the Chinese economy in the long run."
The IMF has lowered its forecast for global economic growth in 2015.
"New factors supporting growth, lower oil prices, but also depreciation of euro and yen, are more than offset by persistent negative forces, including the lingering legacies of the crisis and lower potential growth in many countries," Olivier Blanchard, the IMF's chief economist, said in a statement.
The United States is the lone bright spot in the IMF's otherwise gloomy report for major economies, with projected growth there raised to 3.6 percent from 3.1 percent for 2015.
The United States largely offset prospects of more weakness in the euro area, where only Spain's growth was adjusted upward.
Projections for emerging economies were also broadly cut back, with the outlook for oil exporters Russia, Nigeria and Saudi Arabia worsening the most.