Uber rape case drives expansion of all-female cab services in New Delhi
Comments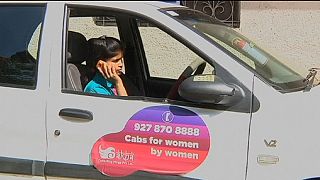 With violence against women in India coming more and more to the fore, one company, Cabs for Women by Women, a service in the capital, New Delhi running since 2008, is suddenly in the spotlight..
It follows the alleged rape of a female passenger by a driver working for Uber, the internet cab system, which has since been banned in the city.
Joining the scheme as a driver is proving to be particularly empowering says the company's founder.
"They interact with other women, they interact with other organisations, they become part of larger campaigns, so their world expands, and by the time they have finished the training, and let's say one more year of work, and they are so much more in control of their own lives," says Sakha Consulting Wings' Meenu Vadera.
With Uber on the ropes and its driver facing trial now one of India's biggest cab companies has also set up a similar service in New Delhi, Meru Eve cabs.
SheRides started in New York last September, while Pink Ladies in Warrington in the north of England are celebrating their fifth year of activity.