Thousands bid Pope Francis farewell as his Philippines tour ends
Comments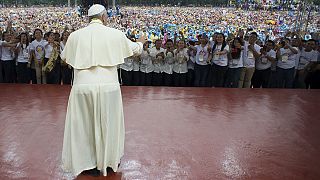 Thousands of people have lined the streets of Manila to say a final farewell to Pope Francis at the end of his five day trip to the Philippines.
Desperate to get a last glimpse, the faithful in Asia's largest Catholic country accompanied their spiritual hero all the way to the airport – each person with their own memories of a papal visit widely hailed as an enormous success.
"I thank my dad because he gave this to me and Pope Francis blessed it," said 17-year-old Erika Danielle Alejo, clutching a crucifix.
"I'm also very grateful to my father who is working overseas for our family."
"I really think this man is a saint," added businessman Gerard Roque, who brought his family and friends with him to see the pontiff.
"And not only is he a saint, he brings a lot of hope in a time of sadness and
despair in the world. And that's something valuable, something money can't buy."
As well as comforting typhoon survivors in the Philippines, Francis urged the government to tackle corruption and poverty.
On Sunday, he also drew a record-breaking crowd of at least six million to his final mass in Manila, despite stormy weather.
It was an extraordinary end to a week long Asian tour that started in Sri Lanka.