Pope comforts victims of Typhoon Haiyan at Tacloban mass
Comments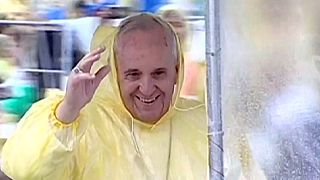 Wearing a plastic poncho to protect him as high winds and rain lashed the Philippines, Pope Francis comforted survivors of Typhoon Haiyan at a mass in Tacloban.
I don't know what to say to you, but the Lord does
The weather proved a sombre reminder of the country's worst natural disaster. Haiyan killed at least 6,000 people when it swept ashore in November 2013.
The pontiff told the hundreds of thousands gathered at the mass that when he saw the disaster he felt a duty to be there. He said many people lost everything, adding: "I don't know what to say to you, but the Lord does."
The storm virtually wiped out Tacloban. The government estimates it needs almost three billion euros to rebuild affected communities, including coastal protection to ensure the disaster is not repeated.
The Pope was advised to leave Tacloban as Typhoon Amang headed towards the coast and returned to Manila earlier than planned. He is expected to hold another mass in the capital on Sunday.