Ticket Portal for Rio 2016 Olympics launched
Comments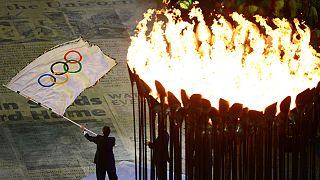 The organisers of the 2016 Rio Games have launched the a portal through which the public can apply for Olympic tickets Thursday.
There will be 7.5 million tickets available for these Games, compared to the 6.6 million tickets available for the London 2012 Olympics, and just over half of those tickets will be priced at less than 70 reals ($26.77). There will also be additional discounts for students and the elderly.
As was the case with tickets for the London Games, initially after two random draws, any remaining tickets will go on sale first to the Brazilian public and then to the international market.​
"We will have a fair and transparent process, in line with the concept of 'Games for All', which is one of the pillars of Rio 2016." said Renato Ciuchini, Commercial Executive Director for Rio 2016 in a statement.
Schoolchildren in Brazil may also have the opportunity to watch the Games for free if the organisers can find a way to buy them tickets.
It had been proposed months ago by Rio Mayor Eduardo Paes to buy 1.2 million tickets for them but so far, no-one has stepped forward to foot the estimated $10 million bill.
Olympic ticket scalpers may​ face serious issues in just over a year's time after it was announced that anyone caught reselling tickets distributed to the National Olympic Committees will face fines up to 100 times the face value of the ticket, as Brazilian officials are determined to eradicate all ticket scalping.
The latest procedure was announced by the Rio 2016 Organising Committee during a presentation in Puerto Vallarta​, Mexico, saying that "the fines are an additional measure to reinforce the integrity of the ticketing program."
Anyone interested in Olympic tickets is encouraged to sign up before March, when the first draw for tickets begins. The online portal can be accessed at www.rio2016.com/tickets
Article by Hugo Lowell