Online resale of new Charlie Hebdo 'an insult to memory of journalists'
Comments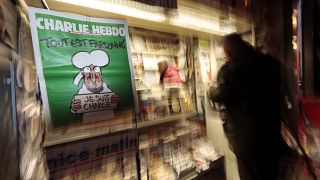 Opportunists trying to re-sell sought-after copies of this week's Charlie Hebdo "are an insult to the memory of the magazine's journalists", it's been claimed.
Reporters Sans Frontieres (RSF – 'Reporters Without Borders) says because the 700,000 copies sold out so quickly on Wednesday it was feeding a "indecent parallel trade".
The first supply of magazines was snapped up by 10am on Wednesday, reported AFP, but a further 4.3-million copies will be available over the coming days.
One copy of the new edition was up for sale on Ebay for around 100,000 euros, reported USA Today.
RSF (Reporters Without Borders), which campaigns for freedom of expression, said Ebay was allowing the re-sale of the magazines on its site, but online retail sites in France such as leboncoin.fr and priceminister.com had banned it.
"It is upsetting to note that after such a tragedy, certain people are trying to profit on the back of Charlie Hebdo's misery," said Christophe Deloire, general secretary of RSF. "We call these people the profiteers of Charlie at the expense of the decency and respect for the memory of those who lost their lives in defence of freedom of information and expression. This parallel trade is pathetic.
"We must at all costs avoid this issue being subject of a bidding war, so that it is read worldwide and sold at its price, and no more."