Protests in Armenia over Russian soldier suspected in family killings
Comments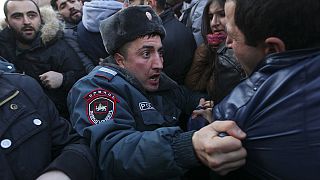 Thousands of protesters took to the streets in Armenia, demanding that Russia hand over a soldier accused of killing six members of the same family.
The suspect is said to have confessed to the killings after going AWOL from the Russian military base in the city of Gyumri on Monday.
At least 14 people were wounded when scuffles erupted between police and protesters as they headed towards the Russian consulate in the city on a third consecutive day of demonstrations.
Protests In Armenia Disrupted By Police After Russian Soldier Reportedly Kills 6 Civilians http://t.co/tPmTrYdTi7pic.twitter.com/8ef8xnjoGY

— The Interpreter (@Interpreter_Mag) January 15, 2015
The Armenian prosecutor has called on Russia to hand over the soldier for trial, though a dispute remains over who has the power to prosecute in the case.
The case has tested relations between the two countries over the degree of Kremlin influence. Russia is a key ally and trade partner for Armenia, which signed up to the Moscow-led Customs Union.
WATCH: Huge crowd at funeral for Armenian family allegedly slain by Russian soldier http://t.co/mViTeLJm9kpic.twitter.com/bKfOTvIs3R

—

RFE

/RL (@RFERL) January 15, 2015
Earlier on Thursday hundreds of people attended the funeral of the family in Gyumri, as the youngest victim, just two-years old was laid to rest.
The only surviving member of the attack, a six-month old baby remains in hospital.