Poroshenko declares a day of mourning for the victims of Tuesday's bus attack
Comments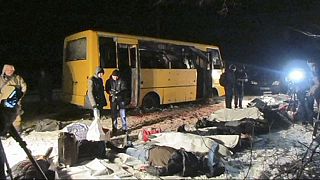 A minute's silence was held in Kyiv for the victims of Tuesday's bus tragedy in which 12 people died when it was struck by a shell near a government checkpoint.
Ukrainian President Petro Poroshenko has condemned the attack, blaming separatist rebels for the deaths.
"I have decided to announce January 15 as a day of mourning for all those who have died at the hands of terrorists."
The bus incident happened in Buhas, south west of the rebel stronghold of Donetsk.
Regional officials blame pro-Russian separatists which they in turn have denied.
Russian Foreign Minister Sergey Lavrov has approved an OSCE
-led investigation into the matter.
"There are already several assessments (of the incident) – I won't go into details – which show that there are several versions of what has happened. But they need a close examination before pointing at someone, as our Western and Ukrainian colleagues do."
Even though the deadly bus attack has raised tensions, a new round of peace talks on the conflict in Ukraine's east could be held in the next few days.
However Poroshenko on Wednesday ordered a new wave of mobilisations despite the truce agreed in September.