Boko Haram violence surges ahead of Nigerian elections
Comments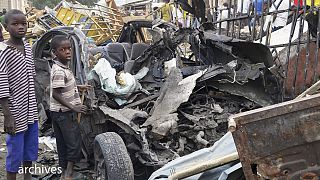 Boko Haram began its concerted terror campaign in Nigeria in 2009. The Sunni jihadist movement was founded in 2002. The Islamists' goal is to impose a strict form of Sharia law.
Recently, the terror campaign has intensified. The city of Baga in the country's extreme northeast was reported last week to be the scene of a massacre of unprecedented proportions.
Baga and sister city Doron, on the shores of Lake Chad, were attacked, residents were murdered and homes and other buildings were set ablaze. The government gave an initial death toll in the hundreds while Amnesty international said 2,000 people were killed.
An estimate by the Council on Foreign Relations think tank (US) says more than 10,000 people died in the violence, last year.
'Recruiting' children is common for Boko Haram: on 10th January a girl reported to be as young as age ten had explosives attached to her. The bomb was detonated when she was in the midst of a crowded market in Maiduguri in the northeast. At least 20 more people were killed, 18 wounded.
The area under the Islamists' control is extremely difficult to enter, and they are expanding. The northeastern states, equivalent in size to Belgium, are bearing the brunt of the insurgency.
They want to revive a medieval caliphate in Nigeria, Africa's most populous country (170 million people) and its biggest energy producer.
The name Boko Haram means 'Western education is forbidden'.
In addition to the Nigerian military's impotence and the government's failure to stop the killings, the jihadists have abducted hundreds of vulnerable Nigerians unopposed, gaining worldwide notoriety. The families of 276 schoolgirls taken last April have all but given up hope of seeing any of them again.
The violence has surged as presidential elections approach, next month.
The incumbent, Goodluck Jonathan, a Christian from the south of Nigeria is running neck-and-neck in the polls against Muhammadu Buhari, a retired general and former military head of state, who is a Muslim from the north.
International critics such as Norwegian refugee body IDMC say poor government strategy has made the violence in the region worse. It adds that the disastrous displacement of more than three million people is affecting Nigeria's neighbours as well.