Diamond, 80, wins New York State's biggest lotto prize
Comments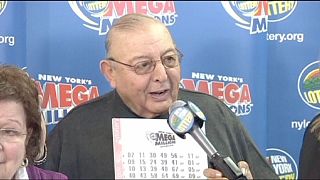 He has the rich name of Diamond, and now he has the cash to go with it.
80-year-old Harold Diamond is New York State's biggest ever jackpot winner.
The retired school principle was the sole winner of 326 million dollars.
He picked up his ceremonial cheque at a petrol station where he bought the winning ticket.
He said when he saw his numbers come up, he told his wife: "I think we won a few bucks!"
Diamond won the money on November 4 but says he waited until recently to claim the prize for tax reasons.
There is a dampener though: after tax, the pensioner walks away with 130.6 million dollars.
80 years younger and $326 million richer. Look at Harold Diamond's sparkle. EWN at 4 and 6. pic.twitter.com/k5US0RdNQk

— Joe Torres (@joetorresABC7) enero 12, 2015