Reassuring a shaken population: 10,000 extra soldiers deployed across France
Comments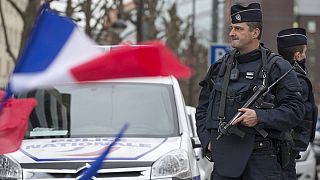 It is a massive deployment of troops to reassure a shaken population.
The French government says an extra 10,000 soldiers are being mobilised to protect the public in key spots after last week's terrorist attacks.
This is being described in the French media as an unprecedented step by the authorities.
Seventeen people were killed in the country's worst acts of terrorism in more than half a century, and three gunmen were shot dead by police.
There are already reports of more soldiers appearing outside tourist locations, but also outside key Jewish and Muslim schools and religious centres, including synagogues and mosques across the country.
Some reports say some 900 soldiers were deployed around schools in Paris.
Jean-Yves Le Drian, the Defence Minister of France, said: "The President of the Republic has asked the Army to help provide security at high-risk places around the country because of the magnitude of the threats that our country faces."
The government has been under pressure to step up security, with reports that many parents were keeping their children away from schools in sensitive areas.
France remains on its highest level of alert after separate deadly attacks on the Charlie Hebdo satirical newspaper, a kosher supermarket and police officers.
Authorities mounted a massive security operation across the country on Sunday as up to four million people took part in unity marches.