More than 50 world leaders linked arms to lead Paris unity march
Comments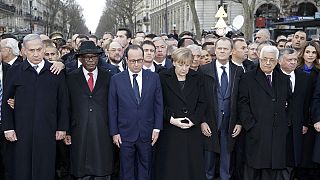 More than 50 world leaders at the Paris unity march against terrorism on Sunday included those from Germany, the UK, Italy, Spain Poland and Ireland.
#charliehebdo#paris#Merkel and #Hollande at the Elysee Palace – Photo: Reuters/Pascal Rossignol pic.twitter.com/Xxo8vRnVSU

— euronews (@euronews) January 11, 2015
The Israeli Prime Minister and the Palestinian President were also there, as well as the UN Secretary General and the US Attorney General.
The President of Mali was also there, a nation France is helping militarily in its fight against Islamist militants, as was the President of the European Commission.
"Today, Paris is the capital of the world​" http://t.co/ZIVX7P1I7C

— euronews (@euronews) January 11, 2015
Also leading the march were relatives of the Paris terrorist attack victims: the 10 people shot inside the offices of the Charlie Hebdo satirical newspaper on Wednesday; the two police officers also shot; a policewoman killed the next day; and four hostages shot at a kosher supermarket on Friday.
As the French President offered his condolences to the families, details of another victim came to light.
It has been revealed a jogger who was shot and wounded in Paris on Wednesday night was shot by the gunman who killed the hostages at the kosher supermarket.
Exclusive to http://t.co/IMia0uoDCV: Israel's Bennett urges Europe to get tougher on terror http://t.co/aIZ1E5DHtn

— euronews (@euronews) January 11, 2015
Video apparently showing Paris gunman emerges online http://t.co/NZUYCl8g78

— euronews (@euronews) January 11, 2015