French President promises protection for Jewish community
Comments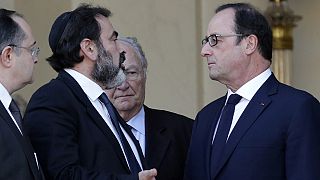 French President Francois Hollande has promised extra protection for the Jewish community at a meeting with members of Jewish schools and synagogues. It comes in response to the apparent targeting of a kosher supermarket by an Islamist militant on Friday.
Euronews correspondent Fabien Farge spoke to Sacha Reingewirtz, President of the French Jewish Students Union just after the meeting.
"The phrase that I will remember from the president is that today Paris is the capital of the world, the capital of freedom.
"When Jews are attacked, when journalists are attacked it's democracy that will be killed, it's the Republic that they want to attack.
"The Jewish students of France, and the French are standing up and marching for the Republic, we trust in our security forces, for our future in France and our message will be stronger than terror."