Children among victims of winter storm hitting Middle East
Comments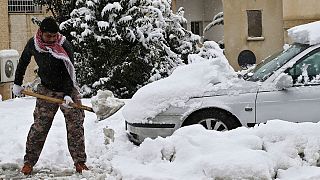 A winter storm of snow, freezing conditions and rain continues to hit large parts of the Middle East.
In Gaza two babies have died from the cold as flooding is reported in many areas.
Drains and anti-flood infrastructures there remain damaged from Israeli bombardments.
Four Syrians, including two children, have also died from the cold in Lebanon.
Refugees in many regions in the Middle East are facing misery because of the winter conditions.
In one refugee camp in Jordan hundreds of people have had to be moved because of flash floods.
Two people have died from the cold there.