2015 Africa Eco Race: Ullevalseter clinches penultimate stage
Comments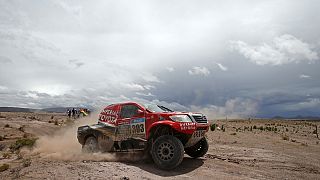 Norway's Pal Anders Ullevalseter produced yet another flawless run to claim the penultimate stage of the Africa Eco Race on Saturday.
The KTM rider looked in great shape and dominated his opponents from the outset, completing the 201km trek from Toueila to St Louis in a winning time of 2hours, 25 minutes and 23 seconds to edge out Ingo Wladschmidt while Vadim Pritulyak completed the podium.
France's Jean-Antoine Sabatier reigned supreme in the car and truck category. The experienced driver secured his third stage win after crossing the finish line in a time of 2 hours, 30 minutes and 4 seconds.
This win sees Sabatier and co-driver Jean Luc Rojat extend their advantage in the overall standings. The French duo are now 1 hour and 9 minutes ahead of Kamaz driver Anton Shibalov.