Thousands of Indians flee rising violence in Kashmir
Comments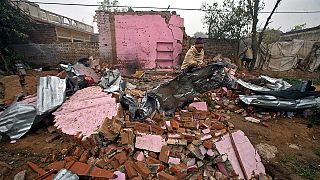 Thousands of Indians have fled their homes as fighting between India and Pakistan intensified in Kashmir.
The violence has spread along a two hundred kilometre stretch of the Kashmir line of control. It comes just days before US Secretary of State is due to visit India.
US President Barack Obama is also due to visit the country later this month.
India and Pakistan have contested the Kashmir region since their independence in 1947.
The United States has for years been encouraging the two rival nations to build better relations.
At least ten Indian and Pakistani soldiers and civilians have been killed in fighting in the past week.
"There is a lot of bombing happening," explained villager Shelov Ram. "We don't know the reason why it is happening. It is either the fault of the government or the army and nobody is helping as well. Whenever people gather in large numbers, firing starts."
Tensions have risen since India's prime minister called off peace talks last August.