Orthodox Christians celebrate Christmas
Comments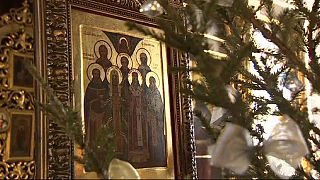 In Russia, Orthodox Christians have headed to church to celebrate Christmas eve.
Some worshippers consider January 6 to be the beginning of the new year and also mark the nativity on this day according to the Julian calendar.
In Ukraine, many of those displaced by the conflict in the east of the country have held their festivities far from home.
In Syria, the Armenian community poured into St Sarkis church in Old Damascus to mark Christmas as the country enters its fourth year of civil war.
Nearly half of the population has been displaced by the conflict which began in 2011.
The Holy Land is unique in celebrating Christmas three times – on December 25, January 6 and and 19.
The Greek Orthodox Patriarch of Jerusalem, Theophilos III, arrived in the West Bank town of Bethlehem flanked by marching bands and clergymen, ahead of the Midnight mass to be held at the Church of the Nativity.