Clerics drop rice and flowers, offer prayers over AirAsia search area
Comments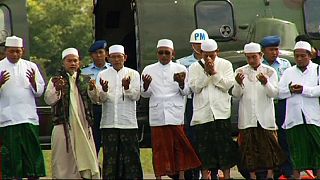 Twelve Muslim clerics have gathered near the crash site of AirAsia flight 8051 to pray for the victims and for success in the search operation.
As divers took advantage of a break in bad weather and resumed efforts to reach the wreckage of the plane on Tuesday, the religious leaders flew over the search area offering more prayers for the 162 victims who died in the plane crash.
Intense monsoon weather has slowed the search operation.
Search teams have now recovered at least 39 bodies.
A group of doctors from the United Arab Emirates and Malaysia arrived in Surabaya on Tuesday to help with the identification of the crash victims.