Watch: Bogota fireworks blast knocks cameraman off his feet
Comments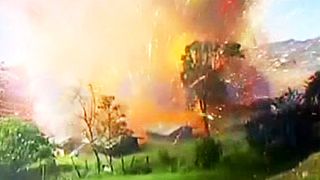 It wasn't quite the usual kind of fireworks display – a huge explosion at a fireworks warehouse in Colombia knocked a cameraman off his feet.
The blast near the capital Bogata sent everyone rushing for cover.
It's not known what caused the incident but two people were slightly injured and 17 homes were damaged.
The warehouse which was flattened belonged to family business which has been putting on pyrotechnic shows for 18 years both in Colombia and abroad.
It is thought there could have been up to 10 tonnes of fireworks stored in the building.
Watch the full video