Jury selection begins in Boston bombing trial
Comments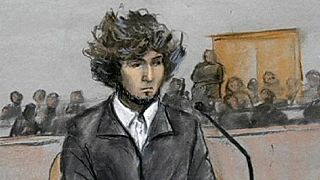 Jury selection has begun in the trial of Boston marathon bombing suspect Dzhokhar Tsarnaev, accused of killing three people and injuring 260 others in April 2013.
Some 1,200 prospective jurors have been summoned to court.
If convicted Tsarnaev could get the death penalty, however, his lawyer is well-known for keeping her clients off death row.
"This is an all-star defense team. You have Judy Clarke, perhaps the best death penalty lawyer in the country who has represented, among other people, Eric Rudolph, Theodore Kaczynski, Jared Loughner. A host of folks and she did a terrific job in those cases from the defense perspective," explained Daniel Medwed, from Northeastern University School of Law.
Tsarnaev has pleaded not guilty to all 30 charges against him.
The judge acknowledged that people would be aware of the bombing, but told prospective jurors they would only consider evidence presented in court.
Jury selection may take a few weeks and the trial is expected to take up to four months.