Families of 43 missing Mexican students to open their own search after 'corrupt system' fails them
Comments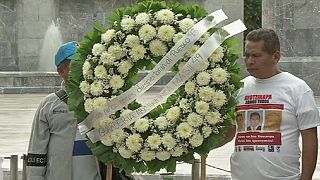 The relatives of 43 of Mexico's missing students say they are to open their own search after the failure of local and federal police to find any of them alive.
We're going to look for all of them
DNA tests conducted by the FBI have only confirmed the identity one of the missing student teachers from a number of mass graves that have recently been unearthed, the result say witnesses from Guerreros state, of the police handing prisoners over to drug gangs.
"We're going to look for all of them. We're not going to count on the government anymore because it does nothing for us. They just tell us that we should give up, how are we going to give up? Would the President give up if it was his son?" said grieving father Rafael Lopez.
Witness statements just made public allege police and drugs gangs collaborated in what is being described as a "hillside massacre" in Iguala in late September, when a number of people were shot or beaten to death by police officers before some 80 eighty students and teachers, over half from the same school, were handed over to local drugs gang lords.
To date some 80 arrests have been made of politicians, local government and police officers but the victims' families say the corrupt system is incapable of finding the truth.