Chinese man spends 72 hours performing and sleeping on a tightrope
Comments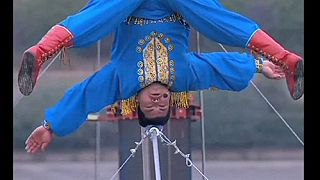 A Chinese man has diced with death by spending 72 hours on a steel wire 50 metres above the ground performing stunts, walking backwards and hanging upside down with no safety protection.
He rested between performances in a sleeping bag suspended from the wire.
He ate all the food he brought with him before the second day and had to spend his last day hungry.