Two people missing as South Australia wildfires destroy more homes
Comments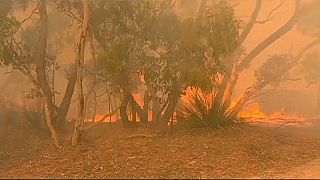 Slightly cooler weather has helped the operation to try to contain a massive wildfire in South Australia.
But the authorities say the situation remains critical, and people and homes remain in the fire's path and in danger.
Two elderly people have been reported missing from separate locations.
Hundreds of firefighters are tackling the blazes in the hills to the east of Adelaide.
At least a dozen homes have been destroyed and it's feared that some 20 more may be lost to the flames.
A carer for orphaned animals, Jo Morris, was more concerned about the fire-fighters saving her kangaroos and wallabies than her home.
"When they turned up here I could see the house was well alight and I just said to them, let it go, save my animals, and we did," she said.
But elsewhere dozens of cats and dogs were killed when a cattery and kennel were destroyed by the fire.
It's not known how many animals have perished.
One fire-fighter managed to save a very thirsty koala that was found on the roadside.