Four more bodies recovered in search for AirAsia flight QZ8501
Comments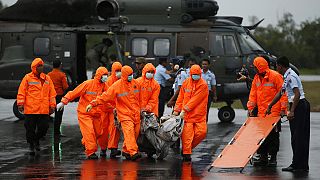 The solemn procession of coffins continues, search teams have recovered four more bodies from the Java Sea bringing the total found to 34, as the hunt for AirAsia flight QZ8501 wreckage continues.
Heading into a second week, the search has uncovered a fifth underwater object believed to be part of the Airbus which crashed en route from Surabaya to Singapore with 162 people on board.
Bad weather appears to be one of the decisive factors in the crash, and continues to hamper efforts to recover the black boxes.
Surabaya, where a majority of the victims were resident, has been gripped with grief since the crash. So far nine Indonesian victims have been identified.
Some of the relatives of those who lost loved ones took solace in prayer. At Mawar Sharon Church in Surabaya, more than a quarter of its members were on Flight QZ8501.