Eight crew missing after cargo ship overturns off Scotland
Comments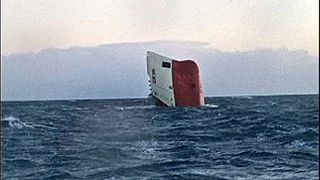 The search was resuming off the north coast of Scotland on Sunday morning for the eight crew members of an overturned cargo ship.
The operation was suspended overnight.
The vessel's upturned hull was found by a passing ferry on Saturday. No distress call had been received.
The Cypriot-registered Cemfjord was spotted some 25 kilometres from Wick. It had been carrying 2,000 tonnes of cement from Denmark to Runcorn near Liverpool.
The ship's German operators Brise of Hamburg said in a statement that the crew members, seven Poles and a Filipino, were missing after a "severe accident".
Bad weather had been reported in the area at the time and conditions remain difficult.
The UK Maritime and Coastguard Agency said four lifeboats, two helicopters and other vessels were involved in the search.
The lifeboat charity the RNLI said on Saturday that the arrival of a tug was awaited to tow the cargo ship back to land.
However the RNLI's video of the vessel revealed very little of the hull remained above the surface of the water.
The cargo ship was built in 1984; its owners say it had completed successful inspections last month.