Egypt celebrates the birthday of the Prophet Muhammad
Comments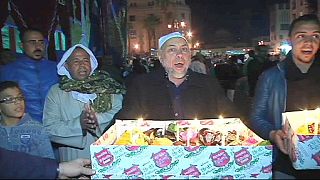 Not all Muslims mark the Prophet Muhammad's birthday but in Egypt days of celebrations are held.
Mosques and streets in Cairo are bathed in light for the anniversary.
Special tasty treats can be found and, to honour the Prophet, food is given to the poor. It is a time for coming together as a community.
"On this day, we communicate with friends and relatives," one man on the streets of the Egyptian capital told euronews.
"The whole family meet with each other in this atmosphere of joy, on the occasion of the birth of the Prophet Muhammad."
"We are very happy about the Prophet Muhammad's birth," another man said.
"In Egypt and in the world, we feel reborn as Muslims."
One of the most important Islamic celebrations in Egypt, many see it as an opportunity to proclaim and rejoice at the Prophet's teachings.
For Sufi Muslims, a display of singing and dancing demonstrates their devotion.
Our correspondent in Cairo, Mohammed Shaikhibrahim said:
"The message of those celebrating here this year is the rejection of violence and terrorism which is practiced in the name of Islam – emphasising the values of love and tolerance which the Prophet Muhammad called for."