Italy finds second ghost ship with 450 migrants
Comments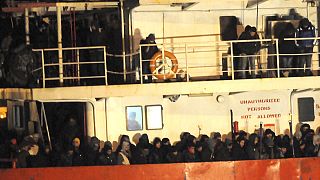 The Italian coastguard has rescued a drifting ship towards the coast of Italy with hundreds of migrants on board in the second such incident this week.
The Italian air force sent a helicopter to the Sierra Leone-flagged Ezadeen in the rough seas of the Mediterranean.
Some 450 people are reportedly on board the ship. The Italian coastguard rescued 970 migrants from another ship, Blue Sky M, earlier in the week.
The Ezadeen had been left powerless after running out of fuel around 65 kilometers from the Italian coast.
Italian coastguards managed to take control of the vessel after landing on it by helicopter in difficult weather conditions.
The European border management agency Frontex has harshly critised the move and said it showed a new level of cruelty by human traffickers.
The ships usually carry mostly Syrian refugees but also others fleeing fighting in Iraq.