Palestinian resolution fails at UN Security Council
Comments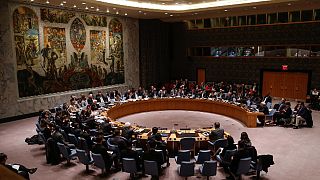 The UN Security Council has rejected a resolution calling for an end to the Israeli occupation of Palestinian territories by 2017.
The draft needed a minimum of nine votes in favour and no vetoes from the council's five permanent members. In the end it received eight: two against and five abstentions.
Australia joined the United States in voting against the measure.
"This resolution sets the stage for more division not for compromise. It could well serve to provoke the very confrontation it purports to address," said Samantha Power, US ambassador to the United Nations.
"For decades the United States has worked to try to help achieve a comprehensive end to the Israeli- Palestinian conflict and we remain committed to achieving the peace that both Palestinians and Israelis deserve," she added.
"Two states for two peoples with the sovereign viable and independent Palestine living side by side in peace and security with a Jewish and democratic Israel."
The vote came after campaigning by the Palestinians who are frustrated by the lack of progress in peace talks.
Riyad Mansour who is the Palestinian UN Ambassador expressed his disappointment.
"The result of today's vote shows that the Security Council as a whole is clearly not ready and willing to shoulder its responsibilities in a way that would allow for the adoption of a comprehensive resolution and allow us to open the doors for peace and for a just and lasting solution based on international law," he said.
Israel, which pulled troops and settlers out of Gaza in 2005, has said its eastern border would be indefensible if it withdrew completely from the West Bank.