Cargo ship with 700 migrants on board and no crew docks in Italy
Comments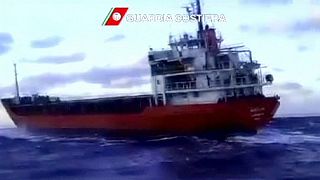 A cargo ship understood to be carrying around 700 migrants arrived in the Italian port of Gallipoli on Wednesday.
Italian authorities had taken control of the ship at sea after the crew abandoned it. It had been set on a route to crash into the Italian coast.
Most of those on board the vessel – called Blue Sky M – were thought to be Syrians and Kurds.
It is not clear where the boat had set off from although there were unconfirmed reports it was from Turkey. It was sailing under a Moldovan flag.
Greek authorities had earlier received an emergency call from a passenger on board and sent a navy frigate and helicopter out as the cargo ship passed Corfu.
It is unclear why the authorities then did nothing. However, a Greek coast guard official speaking anonymously said the the captain had told Greek authorities the ship was not in danger and needed no assistance.
The ship then continued towards Italy.
Emergency crews and the Italian Red Cross were waiting at the docks amidst unconfirmed reports that people on the ship were suffering frostbite and that some might have died.
The smugglers who organise the trips often abandon ship before they reach shore to avoid arrest.