Search for missing Air Asia flight expands after sightings
Comments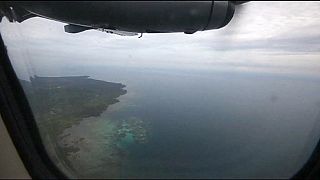 More than two days after an AirAsia passenger jet went missing off Indonesia, the international search and rescue operation is now focusing on an oil slick in the Java Sea.
Teams are also investigating the sighting of smoke on one of islands along its flight path.
Indonesia's President Joko Widodo has thanked neighbouring countries Singapore, Malaysia and Australia for scrambling their own military teams. China and South Korea have also promised to help.
AirAsia's CEO Tony Fernandes has defended his airline's reputation. The carrier was voted the world's best budget airline for six years running. He told the media that since 2001, AirAsia had "carried 220 million passengers and until today, has not lost a single life".
Travelling from Suryabaya to Singapore, the early morning flight last made contact 40 minutes into its two hour journey.
Thirty ships, 15 aircraft and seven helicopters are part of a widened search area, which now includes areas of land.
All but the most optimistic now think the 162 people on board met a terrible fate.