Desperate search continues for missing AirAsia flight 8501
Comments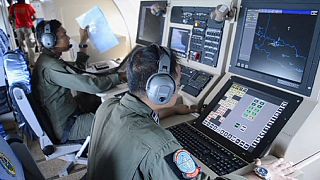 There is still no sign of the missing AirAsia flight 8501 that vanished from airspace thick with storm clouds on Sunday morning.
Search and rescue crews from Singapore, Malaysia and Australia are are on the lookout for anything that could be linked to the missing plane as dozens of relatives wait in agony for news of their loved ones on board the plane.
Officials see little reason to believe the plane met anything but a grim fate on its way to Singapore after it disappeared from radar over the Java Sea.
The plane was carrying 155 passengers and seven crew members.
The Indonesian president has requested a review of his country's aviation procedures.
"I was very shocked and I could feel the concern, the frustration and the sadness experienced by the families of passengers, and I believe (this was) also felt by all the people of Indonesia.
I have instructed the minister of transportation to immediately review all the aviation procedures and processes including applying the highest standards of aircraft maintenance," said Joko Widodo, Indonesian President:
Indonesia is leading the investigation, and is hopeful of finding the aircraft quickly.