Darwin Award? Man's bid to raid ATM blows up in his face
Comments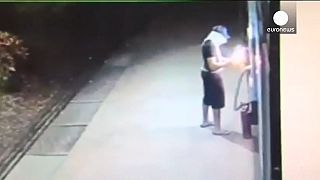 This is the moment a clumsy would-be robber's bid to raid a cashpoint blew up in his face.
The CCTV footage shows a man lighting an explosive to break into the ATM in Darwin, Australia.
But he only succeeded in knocking himself off his feet, before fleeing the scene.
Police probing the attempted robbery in Darwin suburb Winnellie – which happened around 3.45am on December 30 – say the cashpoint was completely destroyed.
The clumsiness and location of the attempt prompt links to the tongue-in-cheek Darwin Awards, which borrows the name of English naturalist Charles Darwin, best known for his work on evolutionary theory.
The awards recognise those who have contributed to human evolution by doing something fatally stupid.
Although the man escaped serious injury, the Darwin location provokes a link to the awards.
Detective Acting Senior Sergeant Karl Day said: "Detectives reviewed CCTV footage from the location which shows a man attend the location, light an explosive and within seconds the item exploded, knocking the man over backwards. The man then ran from the scene.
"The offender is described to be a male of Caucasian appearance, medium build and at the time of the incident he was wearing dark coloured knee length shorts, a dark t-shirt, a dark hat, thongs and wore a light coloured shirt over his face.
"Police believe this man may have been responsible for a similar incident on a NABATM in Winnellie on 24 December.
"This behaviour is extremely dangerous and there is absolutely no reward. This person is lucky to have escaped serious injury."