AirAsia plane skids off runway in Philippines
Comments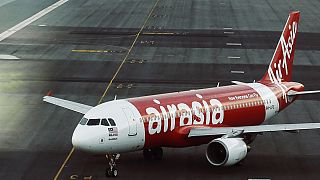 An AirAsia plane overshot the runway in the Philippines forcing passengers to evacuate down emergency slides on Tuesday, according to reports.
The incident took place as the airline confirmed that debris and bodies found in the Java Sea are from QA8501, the aircraft that went missing on Sunday.
Just in: @AirAsiaPH plane overshoots Kalibo runway http://t.co/OdKxnNfJqmpic.twitter.com/UWCenOeppM

— Rappler (@rapplerdotcom) December 30, 2014
The evacuation took place at Kalibo Airport, Alkan Province. Local journalist
Jet Damazo-Santos uploaded pictures to Twitter as passengers were forced to leave their belongings and disembark immediately.
Ms Damazo-Santos said: "Nobody seems to be hurt. Weather was bad … Plane came to a very abrupt stop."
The reporter said the flight had been delayed by two hours because of poor weather at the airport and that a Cebu Pacific plane was forced to turn back to Manilla.
Elderly passengers of AirAsia flight that overshot runway at Kalibo getting blood pressure checked pic.twitter.com/Lyr15BzSMX

— Jet Damazo-Santos (@jetdsantos) December 30, 2014
AirAsia has confirmed that a plane overshot the runway in a statement: "AirAsia Philippines confirms flight Z2 272 from Manila skidded off the Kalibo International Airport runway at 5:43PM upon landing. All 153 passengers and crew were able to disembark safely, no injuries reported. "