Search for missing Indonesian jet resumes
Comments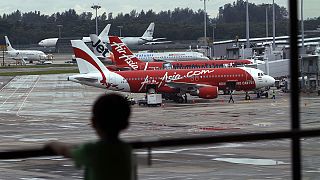 Teams from Indonesia, Malaysia and Singapore on Monday resumed their search for an Air Asia passenger jet, missing in the Java Sea.
As hopes fade for the 162 people on board the Airbus A320, naval vessels and air force planes from the three south-east Asian nations joined the mission.
The jetliner disappeared from radar on Sunday en route to Singapore from Indonesia second largest city, Surabaya, where family members have gathered at a crisis centre for news of their loved ones.
Similar scenes played out in Singapore where loved ones were told how the pilot had asked to change course due to bad weather.
The area around the flight path is experiencing one of two monsoon seasons at the moment, which often includes severe thunderstorms.
AirAsia CEO Tony Fernandez said the airline was doing everything it could for passengers' next of kin.
"Our first priority now is look after the families, and do whatever we can. We don't know exactly what happened to the aircraft. It's premature to talk about insurance. But all financial costs for the next of kin will be taken care of by AirAsia," Fernandez told the media.
Most of the passengers were Indonesian.
If the AirAsia jet is confirmed to have crashed, this will be the third major aviation incident to affect south-east Asian airlines in 2014.
In March, Malaysian Airlines flight MH370 disappeared between Kuala Lumpur (KL) and Beijing and still hasn't been found.
It is thought to have crashed into the Indian Ocean, killing all 239 onboard.
Four months later, another Malaysian Airlines jetliner MH17 from Amsterdam to KL was shot down over Ukraine with 297 passengers and crew murdered.